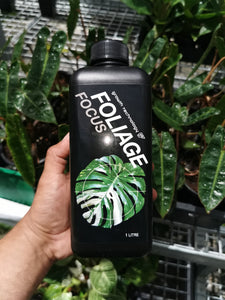 Vivid Jungle
GT Foliage Focus 1L
Regular price
$19.95
$0.00
Unit price
per
Tax included.
Shipping
calculated at checkout.
GT Foliage Focus
Please note when used in conjunction with our potting mix dilution rates must be  halved compared to non enriched potting mixs.

Developed using Growth Technology's (GT) revolutionary Single Part Technology (SPT) and manufactured from the highest quality raw materials, the Focus Range delivers a complete profile of all 12 essential minerals to plants.
As the name suggests, the Focus range accommodates the specific nutritional requirements of specific plant types.
The GT Focus range sets the benchmark for liquid nutrients.
Here's why:
Each GT Focus product is complete. Unlike the overwhelming majority of fertilizers, all Focus products contain each of the 12 essential minerals – including Calcium – blended into an easily absorbed liquid concentrate.
pH buffered to ensure all 12 essential minerals are available to the plant.
Formulated and balanced to suit the requirements of specific plant types.
Manufactured using only the highest grade raw materials and chelated trace elements to ensure effortless absorption by the plant.
Guaranteed not to contain potentially harmful and ineffective chlorides, urea, sodium and ammonium.
Easy to use with simple instructions.
Makes up to 200 litres of working solution
---